Jump to navigation
Jump to search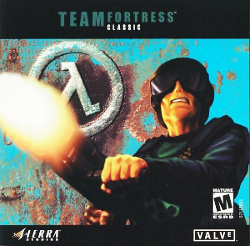 Team Fortress Classic (TFC or TF 1.5) is a team-based, multiplayer first-person shooter game. Teams of players compete in scenarios such as capture the flag, escorting a VIP and territory control. Although initially released as a mod for Half-Life, a stand-alone version of Team Fortress Classic was eventually made available to purchase via Steam, Valve's content delivery system.
Before TFC there was Team Fortress, a 1996 QuakeWorld mod. TF's developers were working on "Team Fortress 2" as a standalone game, but later joined Valve Software and ported the original as a mod for Half-Life called Team Fortress Classic in April of 1999. Despite the company's 1998 statement that "Team Fortress 2: Brotherhood of Arms" would be released "soon", the game remained in development of one form or another for eight years and has been on Wired magazine's top ten vaporware list every year since 2001. On July 15, 2006, Valve announced that Team Fortress 2 ("Brotherhood of Arms" was dropped from the title) would be released with Half-Life 2: Episode Two for Windows, Xbox 360, and PlayStation 3. The release date for Episode Two was set for Winter 2006, but was pushed back to a final release date of October 10, 2007.
Since its release in 1999, Valve has introduced various changes into the game. Perhaps the most momentous was the June 8, 2000 update, which, amongst other things, increased the Pyro's flame damage, reduced the HWGuy's AC damage, introduced new maps and map types such as Dustbowl, a new GUI menu interface and optimized the game's code for smoother, faster play. With this release, the game was renamed to "Team Fortress 1.5" (referring to its development between Team Fortress and Team Fortress 2), but has since reverted to the original "Team Fortress Classic" title with the switch to the Steam platform. Valve's last major revision to TFC was released in October 2001. It was with this release that Valve began the long transition to its Steam system, which was finally completed in July 2004. Before this, Valve released a Steam-only version that also introduced the Engineers' teleporters and a single new map (Ravelin, which was Valve's first new map release in nearly 3 years). Despite this, older TFC versions remain popular especially among veteran players, some of who have found ways to port the teleporters and Ravelin over to these older versions.
For much of its early history, TFC was second only to Counter-Strike as the most-played and popular of online games. For a long time afterwards it consistently ranked between the top 5 or top 10. Currently, there are usually only around 500 TFC servers up at any one time, a very low number compared to what it was in its beginnings.
TFC can no longer be played on the WON network (unless a player knows the IP of the server he or she wants to play on) as Valve Software has shut it down. In order to play TFC, users must now use the Steam platform. The advantages and disadvantages of WON (and its user-created replacement WON2) vs. Steam remain controversial issues within the TFC and Half-Life communities.
Table of Contents