Jump to navigation
Jump to search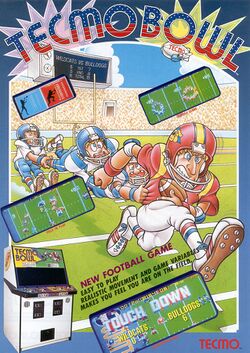 Tecmo Bowl (テクモボウル, Tecmo Bowl?) is an arcade game developed and released in 1987 by Tecmo. While moderately successful in the arcades, the game became and remained widely popular and remembered when it was ported to the Nintendo Entertainment System in 1988. The NES version was considered by many to be the first American football game to feature real NFL teams and players. Although LJN's NFL Football was the first, it didn't turn out to be as successful as Tecmo Bowl. Due to this factor and because the arcade version was rarely found, the NES version eclipsed its arcade counterpart in popularity. The NES version was ported to mobile phones in 2004 and the North American Wii Virtual Console on March 12, 2007. The arcade version for the Virtual Console came out on August 3, 2009.
The original arcade version was distinguished by a large two-monitor cabinet, support for up to four players, and the ability to break tackles. Only two fictional teams can be chosen: the Wildcats and the Bulldogs.
The NES version allowed two players. In this version, the player can choose between 3 modes: 1 player, 2 players, and coach. In 1 player mode, the player picks a football team and plays against the computer. After every game that the player wins, the computer picks another team to play as, and the player stays with his/her original choice. Each successive game against the computer becomes slightly more difficult. If the player manages to defeat all the other teams, they win the championship. In 2 player mode, the player and another human will play one game. In coach mode, the player and another play one game, but the players only choose the plays (which cannot be done in the arcade version).
In both versions, the playbook consists of only four offensive plays. When on defense, a player selects which play thought to be the one that the offense will select; if chosen correctly, it results in a collapse of the offensive line and well-covered receivers.
Table of Contents