Jump to navigation
Jump to search
This is the first game in the Teenage Mutant Ninja Turtles series. For other games in the series see the Teenage Mutant Ninja Turtles category.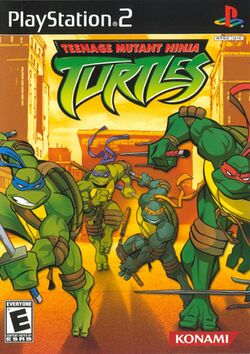 Teenage Mutant Ninja Turtles is a beat 'em up game released in 2003 by Konami. The game is based on the 2003 TV series of the cartoon characters. The main gameplay loosely adapts episodes from season one, but also includes some original material.
Shortly after a group of mouser robots destroy the turtles' old home, the mouser robots begin to attack the turtles' new home. Michelangelo eventually gets on Raphael's nerves, causing Raphael to leave to the surface. In the city streets, Raphael is confronted by Purple Dragon thugs, Casey Jones, and Dragonface. Baxter Stockman soon uses invisible foot tech ninjas to capture Raphael, and Donatello is forced to rescue him. Afterwards, the turtles are confronted by genetically mutated beings. All of these problems are found to originate with the Shredder, and so the turtles decide to eliminate the Shredder and end up defeating him once and for all.
Gameplay
[
edit
]
Players can choose to play as either Leonardo, Donatello, Michelangelo, or Raphael. There is a story mode for one or two players and a versus mode where two players can fight head to head. There are various other features and levels.
Table of Contents
Stage 1: Things change
Stage 2: Nano
Stage 3: Trap
Stage 4: Tengu
Stage 5: Notes from the underground
Stage 6: Justice