Jump to navigation
Jump to search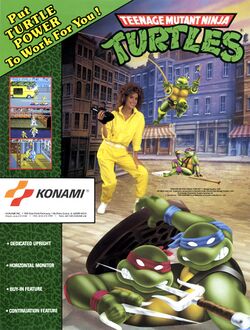 Teenage Mutant Ninja Turtles is a beat 'em up produced by Konami in 1989 based on the popular comic and animated series Teenage Mutant Ninja Turtles. As with all merchandise relating to the Ninja Turtles, the name of this game was altered to Teenage Mutant Hero Turtles in Europe, due to censorship issues involving the word "ninja". This arcade game was ported and released to the Atari ST and NES in 1990 as Teenage Mutant Ninja Turtles II: The Arcade Game (ティーンエージ ミュータント ニンジャ タートルズ, Tiineeji Myuutanto Ninja Taatoruzu?, Teenage Mutant Ninja Turtles). There were a number of Versions released for home consoles.
The player chooses from one of the four Ninja Turtles (Leonardo, Michelangelo, Donatello, and Raphael). After Shredder kidnaps the turtles' friend April O'Neil and their mentor Splinter they must give chase, save their comrades, and defeat their nemeses.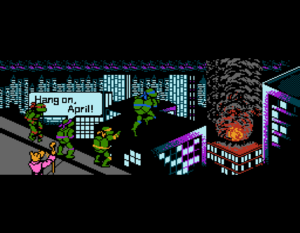 April O'Neil, friend of the Teenage Mutant Ninja Turtles, is trapped in a burning building by the Foot Clan. The Teenage Mutant Ninja Turtles, guided by their Master Splinter, leap onto the roof of the fiery tower from a nearby building and make their way to rescue April. Unfortunately, the fire is the least of their worries...
Table of Contents
Appendices