Jump to navigation
Jump to search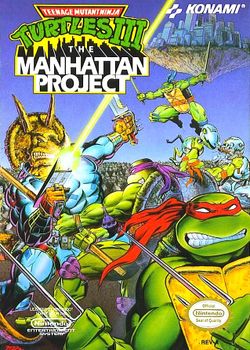 Teenage Mutant Ninja Turtles III: The Manhattan Project is the third game in the Teenage Mutant Ninja Turtles franchise for the NES. It was released in Japan on December 13 1991, and in North America in February 1992. Like the previous games, it was developed and produced by Konami.
The game was released in Japan as Teenage Mutant Ninja Turtles 2: The Manhattan Project (ティーンエージ ミュータント ニンジャ タートルズ 2 ザ マンハッタン プロジェクト, Tiineeji Myuutanto Ninja Taatoruzu Tsuu Za Manhattan Purojekuto?) because the original game (Teenage Mutant Ninja Turtles) had its title changed for its Japanese release, affecting the numbering of its two sequels.
While vacationing at a beach in Key West, Florida, the Turtles see April's latest news report on the escalating crime statistics. The network's signal goes out during the broadcast, and Shredder appears on screen with a message directed at the turtles themselves. He raises the entire island of Manhattan skyward above New York and takes April hostage. Seeing this, the turtles return to Manhattan to rescue April and defeat Shredder.
Table of Contents