Jump to navigation
Jump to search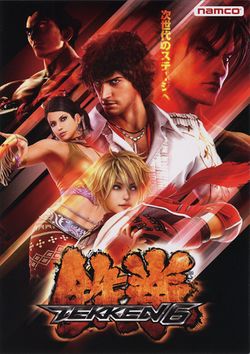 This guide is for the original 2007 game. For the 2008 update, see Tekken 6: Bloodline Rebellion.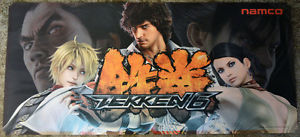 Tekken 6 is a one-on-one fighting arcade game that was released by Namco on November 26, 2007. It was the first game to run upon the company's System 357 hardware and is the eighth title in the Tekken series.
Players use an 8-way joystick and four buttons (two for left and right punches, and two for left and right kicks), to take control of two of thirty-nine fighters. There are also two new bosses (Azazel and Nancy-MI847J). In 2008, this game received an update, named Tekken 6: Bloodline Rebellion; it introduced two more new characters (Alisa Bosconovitch and Lars Alexandersson), along with a gold version of Azazel, and six new stages. When the game was ported to the PlayStation 3 for the US on October 27, 2009, it added a new mode called Scenario Campaign. This was the first time a PlayStation port of a Tekken title was first released for the United States.
The game was ported to the PSP and released on November 24, 2009 in the US, on December 11, 2009 in the EU, and on January 14, 2010 in Japan. This version lacked the Scenario Campaign mode, some "Customization" options, "Achievements" & "Trophies", all the characters' "special outfits" and the "Stage Select" features. As a result of Scenario Campaign mode being removed, it also made Alisa and Lars playable for Arena Mode, and gave them their own ending sequences.
Table of Contents
Appendices
Tekken
Tekken 2
Tekken 3
Tekken Tag Tournament
Tekken 4
Tekken 5
Tekken 5: Dark Resurrection
Tekken 6
Tekken 6: Bloodline Rebellion
Tekken Tag Tournament 2
Tekken 3D Prime Edition
Tekken 7
Tekken 8