Jump to navigation
Jump to search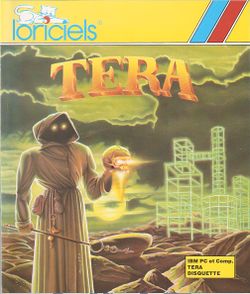 Tera: la cité des crânes (Tera: The City of Skulls; in French, titles are always sentence case) is a role-playing game released in 1986 in France only. The developers used the pseudonyms "Ulysses" and "Lout". The game was published by Loriciels.
Tera: la cité des crânes is abandonware.
Tera is one of the earliest French-only role-playing games. One year later, Ulysses developed Karma, a spiritual sequel to Tera that uses the same engine.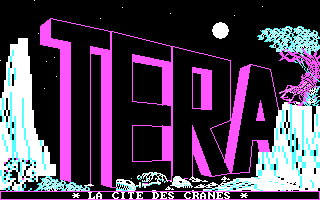 | Screenshot | English translation |
| --- | --- |
| | Amarande the Black, once prosperous, is today torn apart into three powers: Technology... |
| | ...Trascendance, whose power relies on priests and vestals... |
| | ...and Magic, whose "temple" is buried in the depths of... |
| | ...the City of Skulls. |
| | Technology tends to hide away on a nearby small world, Alfol... |
| | ...deserted and yet inhospitable! Also, going there by starship presents the danger of an attack by... |
| | ...the pirates of Shaam! |
| | It is said that the priests got allied... |
| | ...with the mineral-telepathic beings of Meduz... |
| | ...and that the city of skulls is inhabited by nameless horrors: the guardians of treasures! |
| | The most fearful of them are Arioch and its equals, names that everyone avoids to pronounce. |
| | Luckily, you can count on the help of exceptional beings... |
| | ...so that harmony rules again on Amarande, and that chaos gets banned forever... |
Gameplay
[
edit
]
Tera is one of the earliest French role-playing games, after Tyr Ann and Mandragore. Since Tyr Ann is a maze game with minimal role-playing elements, and Mandragore received an English localization, Tera: la cité des crânes remains the earliest French-only role-playing game. The most innovative mechanic of Tera is that party members learn skills from each other! Eventually, the hero can become a master in all nine skills.
Similar games
[
edit
]
Tera: la cité des crânes (1986) features several mechanics reminiscent of older computer role-playing games; one the other hand, the original mechanics of Tera are seldom seen in later games. With reference to older games:
Anyway, Wizardry, The Bard's Tale, and the early Ultima titles show a clear influence from the pen-and-paper Dungeons & Dragons, but no element of the latter is present in Tera. Therefore, it is likely that all similarities are just coincidences, especially for the games released just one year earlier, in 1985.
Few games use a skill system in any way reminiscent of Tera 's one, where characters learn from each other. Perhaps, the most similar is Final Fantasy V, where characters can change job and keep one earlier skill.
Table of Contents
External links
[
edit
]