Jump to navigation
Jump to search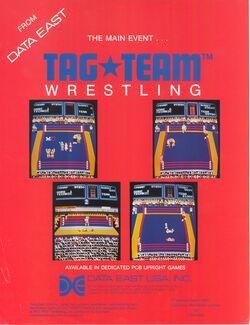 Tag Team Wrestling is a 1983 arcade video game developed by Technos and released by Data East. The game was ported to the Commodore 64 and MS-DOS in 1984, and the NES in 1986. The name of the game in Japan is The Big Pro Wrestling! for the original arcade version and Tag Team Pro Wrestling for the Famicom version. In North America, it is Tag Team Wrestling for both the arcade and NES versions.
Home conversion
[
edit
]
In the NES version, two professional wrestling tag-teams, the Strong Bads and the Ricky Fighters, battle against each other in tag-team action, or a single player competes in a series of tournaments to win ever larger trophies. The Strong Bads provided the basis for the character Strong Bad on the popular Homestar Runner website.
Computer conversions
[
edit
]
As an 8-bit game, Tag Team Wrestling has a limited number of wrestling moves and characters. Moves and counters are performed through the use of a real-time, menu-based action-reaction fighting module. After engaging in a grapple, players quickly scroll through a menu and choose a technique to perform. Each of the four characters has a unique move that can only be used against one other "rival" wrestler.
Table of Contents