Jump to navigation
Jump to search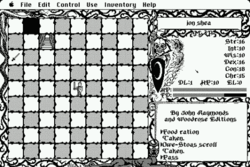 The Dungeon Revealed is a popular dungeon crawl computer game created by John Raymonds and published by Woodrose Editions in 1987. A demo and shareware version of the game entitled "The Dungeon of Doom" were released in 1986 and 1987 respectively to promote the commercial release of The Dungeon Revealed which came in 1987. Both were released for the Mac OS, and were compatible with versions as late as System 7. In fact, The Dungeon Revealed can still be played with Mac OS 10.4.10 in Classic (Mac OS 9.2.2) but suffers from an absence of sound. "The Dungeon of Doom", the demo and shareware releases, were not 32-bit clean and thus not compatible with Mac OS 7.5 and up.
Gameplay
[
edit
]
The player controls a single character trapped in an underground dungeon. If the character attempts to take the stairs from the dungeon, a message appears: "A force prevents you from escaping to the surface. Maybe the Orb will set you free..."
The dungeon is divided into 40 floors, each with one staircase going up, and one going down. The floor plan of each level is randomly generated, but remains unchanged throughout a single game. Though each level is about the same size, the complexity of the floor plans becomes more maze-like as the character descends to deeper dungeon levels. There are also items, including weapons, armor, magical rings, scrolls, potions, wands, food items, and jewels placed randomly throughout the dungeon's floors.
Progress though the dungeon is hindered by monsters who, depending on the circumstances, have varying levels of hostility towards the character. The character must also eat periodically to avoid starvation. The monsters become more powerful and resistant to attack as the player progresses deeper into the dungeon.
Table of Contents