Jump to navigation
Jump to search
This is the first game in the The Flintstones series. For other games in the series see the The Flintstones category.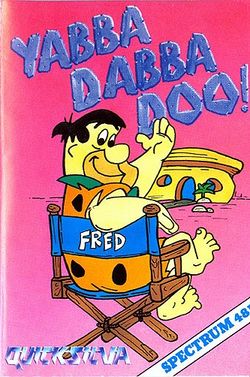 The Flintstones: Yabba-Dabba-Doo (commonly referred to as just Yabba-Dabba-Doo) is: an action game developed by Taskset for Quicksilva, and released on the Sinclair ZX Spectrum, Amstrad CPC, and Commodore 64 in 1985; it is based upon the Hanna-Barbera television series of the same name, which aired from 1960 to 1966 and later got a spinoff, The Peebles and Bamm-Bamm Show, in 1971.
This is from the back of the cassette's inlay card, the front of which is shown in the image to the right:
Prehistoric courting at its best!
Fred Flintstone has a problem. In order
to complete his nuptials with the
delectable Wilma, he needs to build
her a home. The woman of his dreams is
heavily into property and until Fred
gets his building act together, marital
bliss will continue to escape him!
Be a pal and help poor old Fred to woo
the house-loving Wilma in this multi-
screen all-action arcade adventure.
After all, it should be EASY to stick a
few rocks together...shouldn't it?
© Hanna-Barbera Productions Inc. 1985
Table of Contents