From StrategyWiki, the video game walkthrough and strategy guide wiki

This article could use a cleanup in order to be more legible and/or presentable. Please help improve this article in any way possible. Remember to follow our editing guidelines when improving existing articles. If you can improve this page, please edit it, or help by discussing possible changes on the talk page.
If you need help with wiki markup, see the wiki markup page. If you want to try out wiki markup without damaging a page, why not use the sandbox?
Use the following safe location guide along with the safe location maps to find all 100 safes. You can also review your progress in the Pause menu. Choose Map, choose the family currently controlling the business, scroll to the business name, and Show venue information. If the business has a safe it will either show "Safe was destroyed: No" or "Yes".
Little Italy
[
edit
]
View entire Little Italy safe location map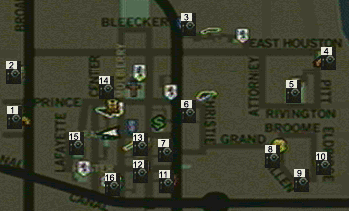 | | | | |
| --- | --- | --- | --- |
| No. | Location | Floor | Area of Building |
| 1.) | Saint Martin Hotel | 3rd | SE |
| 2.) | Bella Siciliana | 1st | NW |
| 3.) | Sicilian Imports Inc. | 2nd | SW |
| 4.) | Bowery Hotel | 4th | NE |
| 5.) | Chinaware Warehouse | 1st | NE |
| 6.) | Dr. Harvey's Clinic | 1st | NW |
| 7.) | Dr. Valachi (Clinic) | 1st | SE |
| 8.) | Harry's Bar | 1st | SW |
| 9.) | Primola | 1st | NW |
| 10.) | Arezzo Seafood | 1st | SE |
| 11.) | Boolie's Bakery | Basement | NE |
| 12.) | Emilio's Butcher Shop | 2nd | SW |
| 13.) | DeMantagnas | 1st | SW |
| 14.) | Global Trading Co. | 2nd | SE |
| 15.) | Smoke Signals | 2nd | SE |
| 16.) | Trapani's Bakery | Basement | SE |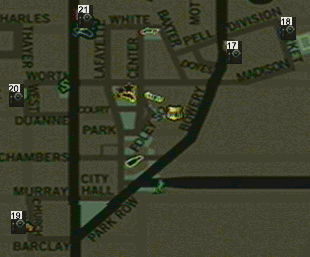 | | | | |
| --- | --- | --- | --- |
| 17.) | Sammy's | 1st | NW |
| 18.) | Italia Hauling Co. | 2nd | SE of N building |
| 19.) | Hotel Alioto | 3rd | SE |
| 20.) | Va Va Voom Room | 1st | SE |
| 21.) | The Continental | 1st | SW |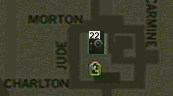 | | | | |
| --- | --- | --- | --- |
| 22.) | Verona Warehouse | 1st | SE |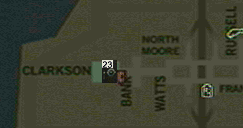 | | | | |
| --- | --- | --- | --- |
| 23.) | Lipari Warehouse | 2nd | NW of N building |
Brooklyn
[
edit
]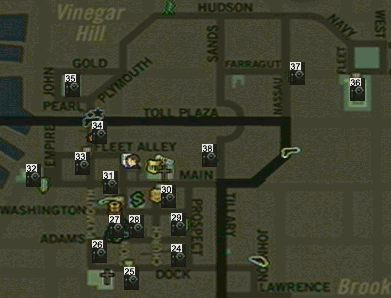 | | | | |
| --- | --- | --- | --- |
| No. | Location | Floor | Area of Building |
| 24.) | Cafe Vitales | 2nd | NE |
| 25.) | The Ambassador | 2nd | NE |
| 26.) | Midnight Rosie's | 2nd | W |
| 27.) | The Full Moon | Basement | SE |
| 28.) | Global Trading Co. | 2nd | S |
| 29.) | Wright Wronsky's | 2nd | SW |
| 30.) | Michelangelo Salera | 1st | NE |
| 31.) | Liberto's | Basement | E |
| 32.) | S. Elia Warehouse | 1st | NW |
| 33.) | Valentino's | 1st | NE |
| 34.) | St. Sebastian Hotel | 4th | NE |
| 35.) | Tattaglia Hub | 1st | NW |
| 36.) | Tattaglia Compound | 2nd | S of S building |
| 37.) | Dr. Marshall's Clinic | 1st | NW |
| 38.) | Sicilian Goods | 2nd | SE |
Midtown
[
edit
]
View entire Midtown safe location map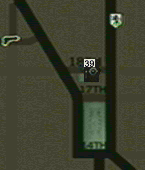 | | | | |
| --- | --- | --- | --- |
| No. | Location | Floor | Area of Building |
| 39.) | St. Alban's Hotel | 3rd | NW |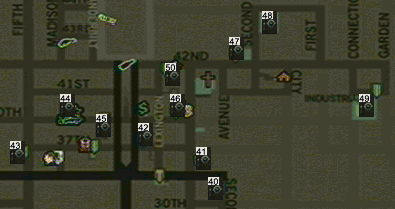 | | | | |
| --- | --- | --- | --- |
| 40.) | Orchid Inc. | 1st | SW |
| 41.) | Dr. Alexander Noel (Clinic) | 1st | NW |
| 42.) | Flowers of Scotland | 1st | NE |
| 43.) | Madame Polly's | 2nd | SE |
| 44.) | J. Sizzle's Steakhouse | 1st | N |
| 45.) | The Luna Bar | Basement | SW |
| 46.) | Isao Kimota | 1st | NW |
| 47.) | Chateau Toledo | 1st | SE |
| 48.) | Palermo Warehouse | 1st | SW* |
| 49.) | Barzini Hub | 2nd | SW of S building |
| 50.) | The Peak | 3rd | NE |
*go into building, jump through window ahead, go to the right and into door you find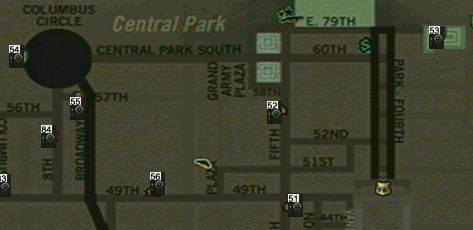 | | | | |
| --- | --- | --- | --- |
| 51.) | Hotel Madison | 4th | SW |
| 52.) | The Carnegie Club | 4th | SW |
| 53.) | Barzini Compound | 2nd | E of W building |
| 54.) | West Side Willy's | 1st | NE |
| 55.) | Lumpy's Bar | 1st | S |
| 56.) | Savannah Hotel | 3rd | E |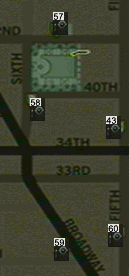 | | | | |
| --- | --- | --- | --- |
| 57.) | The Colonial Club | 1st | SE |
| 58.) | Raphael's | 1st | NE |
| 59.) | Hawk's Steakhouse | 2nd | NW |
| 60.) | Palladio Willow | 1st | SW |
Hell's Kitchen
[
edit
]
View entire Hell's Kitchen safe location map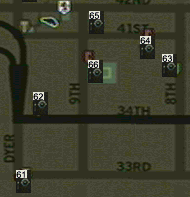 | | | | |
| --- | --- | --- | --- |
| No. | Location | Floor | Area of Building |
| 61.) | Mrs. Spillane's | 4th | SE |
| 62.) | The Tunnel Club | Basement | SE |
| 63.) | Scotty's Biscotti | Basement | S |
| 64.) | Caruso! | Basement | S |
| 65.) | Dr. O'Riains (Eastern Clinic) | 1st | SW |
| 66.) | Milk Co. Warehouse | 1st | SW of N building |

| | | | |
| --- | --- | --- | --- |
| 67.) | Poppy's - Westside | Basement | SE |
| 68.) | Hell's Kitchen Clinic | 1st | SW |
| 69.) | Casey Quinn's | 2nd | SW |
| 70.) | Holden Holdings | 2nd | S |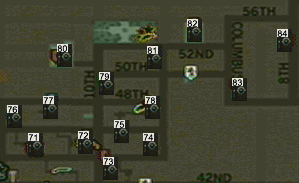 | | | | |
| --- | --- | --- | --- |
| 71.) | Tyler's Top Cuts | 1st | NW |
| 72.) | The Elegante | 3rd | SE |
| 73.) | West Side Philly's | 1st | SE |
| 74.) | Arezzo Seafood | 1st | NE |
| 75.) | Doc Thody's Dahlias | 1st | SE |
| 76.) | The Red Fox | 1st | N |
| 77.) | Orchid Inc. | 1st | SE |
| 78.) | Providence Hotel | 4th | SE |
| 79.) | M. Powers & Sons | Basement | NW |
| 80.) | Cuneo Compound | 2nd | SE of E building |
| 81.) | Dale Mangano's | 1st | SW |
| 82.) | Cuneo Hub | 1st | NE |
| 83.) | The Colonial Tavern | 1st | NE |
| 84.) | After Hours | 1st | SE |
New Jersey
[
edit
]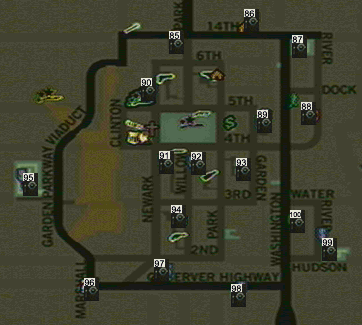 | | | | |
| --- | --- | --- | --- |
| No. | Location | Floor | Area of Building |
| 85.) | Santo | 1st | S |
| 86.) | The George Hotel | 3rd | SW |
| 87.) | Waterside Warehouse | 1st | N |
| 88.) | The Crane Club | 1st | SE |
| 89.) | Velveteen's | Basement | SW |
| 90.) | Joe Foley's | Basement | Middle |
| 91.) | Fabio Satriani and Sons | 2nd | SE |
| 92.) | Joey's Baked Goods | Basement | N |
| 93.) | Arnold's Famous 47 | 2nd | NW |
| 94.) | B. Fidanque, MD (Clinic) | 1st | SE |
| 95.) | Stracci Compound | 2nd | NE of S building |
| 96.) | Boris Amchini | 1st | SE |
| 97.) | The Highway Hotel | 3rd | SW |
| 98.) | Sicilian Goods | 2nd | N |
| 99.) | Stracci Hub | 1st | SE |
| 100.) | Johnny Congers | 1st | SE |