Jump to navigation
Jump to search
Quick Area 0 Detour
[
edit
]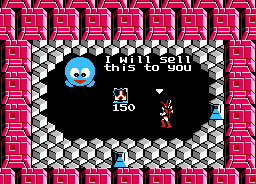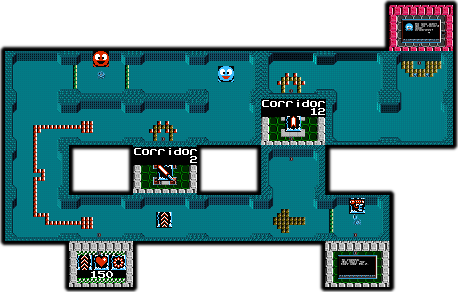 Corridor 12
[
edit
]
This corridor won't feature many surprises, but it does move along at a fast clip, making it somewhat difficult to collect item capsules that appear from defeated enemies. It starts out with blue fish, who are quickly joined by bullet firing stalks and manta rays. You can destroy a majority of what appears by remaining on the left side of the screen. Then you will fly through a long, sparse area, devoid of enemy creatures.
The enemies will resume when a cliff wall appears on the left side of the sea bed. Fish and stalks will appear with great frequency for the next few seconds. Fish will continue to appear long after the stalks stop. They are eventually joined by a red orb trench digger. Shoot at it to destroy the small squid it fires at you and to defeat it. When the second red orb appears, the fish will be replaced by manta rays, who continue to appear through the third red orb's appearance. One final set of fish will attack before the boss approaches.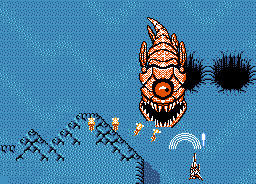 The boss of this corridor is a large Fleepa, just like the one you encountered at the end of Corridor 1. However, this one is red and quite a bit stronger. It takes more hits to defeat, and it releases four squids with every opening of its mouth instead of two. This actually works in your favor to some degree, since it increases the chances that a destroyed squid will create an item capsule. Your strategy for defeating the Fleepa should be the same. Time your movements to position yourself under the Fleepa for as long as possible before you risk taking damage from the collision. Get out of its way and return to your position when it begins to back off. You'll have a few more special weapon options at your disposal this time. Try the Fireball or Repeller as alternatives to the Wave Attack and Multi-Bullet.
Return to Area 2
[
edit
]
After collecting the Hyper Laser, continue south through the bottom door. Ignore the orbs that greet you on the other side, and walk south one screen. Ignore the arrow's suggestion to travel west, and head east instead.
Corridor 2
[
edit
]
When you arrive in this corridor, you will be immediately attacked by fish. This is very quickly followed up with attacks from appearing seahorses, along with quads of bullet firing stalks. A weapon like the Repeller can help you defeat all of the stalks if you fire it at the correct location. Just as the bubble launching plants appear a new enemy will flash on the top of the screen. These green snake-like lampreys wiggle back and forth as they slowly descend down the screen, firing bullets as they go. They are fairly easy to defeat and should be disposed of quickly.
Lobsters, fish and plants will appear for a while. After they stop, starfish will fly in from the upper corners. Then the level empties out a bit, with the occasional stalk appearing from time to time. Seahorses begin to fill in the slack, and soon enough starfish join in the assault. Starfish appear alone for a short period, before fish and plants take over. Pairs of plants appear at increasing distances until the stage slows down and the boss approaches.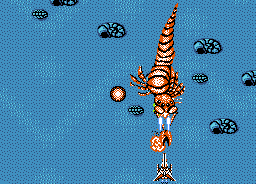 The boss of this corridor appear to be a very large crayfish, and is known appropriately as Crawdaddy. It attacks by sending a near constant stream of detachable claws in your direction. The claws are very easy to destroy and don't pose a very big threat. The boss will bob up and down, in addition to tracking you horizontally. The more you move horizontally, the more it moves. A simple way to defeat him is to stay directly below him and fire your guns and fireball at him rapidly. The slow fireball will destroy its projectiles and powerups will drop from it rather frequently. Alternatively, the Wave Attack should do a good job of clearing away the stray claws. If you arrived with full or near-full health, you shouldn't even have to worry about getting close to dying before the boss is defeated.
For your success, you will earn the key that opens Area 3. You will return to Area 2, and earn the Saber Laser which, as stated above, is probably your first special weapon level upgrade. The Saber Laser should now appear green in your subscreen, and it will do increased damage, but at the expense of more chips per time used. Exit from Area 2 and make your way to the entrance of Area 3, which can be found at X8 Y14 in Area 0.