Jump to navigation
Jump to search
Click here for more information about Chris's other fighting game appearances.

Chris (クリス) is one of the Four Heavenly Kings of Orochi, and is the dark Orochi counterpart to Kyo Kusanagi in regards of his ability to wield dark flames. His past is shrouded in mystery.
Story (in the KOF Orochi Saga)
[
edit
]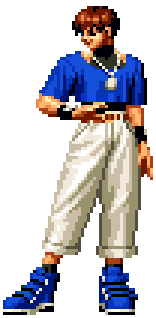 Chris is introduced as a member of the New Face Team in KOF '97.He has the ability to wield dark flames. He is also the chosen host for Orochi's awakened spirit. He was designed as a character who can "kill with an innocent smile."
His true origin is shrouded in mystery. What is known is that he, along with Yashiro and Shermie, entered the KOF tournament to form the New Faces Team.
They initially enter due to Yashiro's grudge against Iori and his band, but as the tournament progresses, their Orochi blood awakens them to be three of the "Four Heavenly Kings" (the first being Goenitz). As loyal members of Orochi, they continue to gather power to resurrect Orochi through Chris' body.
They succeed but the Three Sacred Treasures (Kyo, Iori, and Chizuru) defeat him. In the New Face team's ending, all three members sacrifice themselves in hopes of resurrecting Orochi.

Name
Input
Spinning Array
+
Slide Touch
+
Glider Stomp
+
Hunting Air
+
Shooting Dancer Thrust
+
Shooting Dancer Step
+
Desperation Move
Chain Slide Touch
+
Desperation Move
Twister Drive
+

Name
Input
Spinning Array
+
Reverse Anchor Kick
+
Carry Off Kick
+
Slide Touch
+
Scramble Dash
+
Direction Change
+
Hunting Air
+
Shooting Dancer Thrust
+
Shooting Dancer Step
+
Glider Stomp
+
Desperation Move
Chain Slide Touch
+
Desperation Move
Twister Drive
+

Name
Input
Spinning Array
+
Reverse Anchor Kick
+
Carry Off Kick
+
Slide Touch
+
Scramble Dash
+
Direction Change
+
Hunting Air
+
Shooting Dancer Thrust
+
Shooting Dancer Step
+
Glider Stomp
+
Desperation Move
Chain Slide Touch
+
Desperation Move
Twister Drive
+

Special Moves

| | |
| --- | --- |
| Slide Touch | + |

| | |
| --- | --- |
| Hunting Air | + |

| | |
| --- | --- |
| Shooting Dancer Thrust | + |

| | |
| --- | --- |
| Shooting Dancer Step | + |

Command Moves

| | |
| --- | --- |
| Spinning Array | + |

| | |
| --- | --- |
| Reverse Anchor Kick | + |

| | |
| --- | --- |
| Carry Off Kick | + |
Special Moves

| | |
| --- | --- |
| Slide Touch | + |

| | |
| --- | --- |
| Scramble Dash | + |
Special Moves

| | |
| --- | --- |
| Direction Change | + |

| | |
| --- | --- |
| Hunting Air | + |

| | |
| --- | --- |
| Shooting Dancer Thrust | + |

| | |
| --- | --- |
| Shooting Dancer Step | + |