Jump to navigation
Jump to search
Click here for more information about Shermie's other fighting game appearances.

Shermie (シェルミー) is is one of the Four Heavenly Kings of Orochi. She is famous for the fact that her eyes are always covered by her hair and are never seen.
Story (in the KOF Orochi Saga)
[
edit
]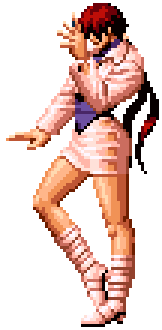 The true origins of the Orochi fighter known as Shermie are shrouded in mystery. She, along with Yashiro Nanakase and Chris formed a music band called "CYS" (based on the first letter of the name of each member), where Shermie played the keyboards. They enter the KOF '97 tournament due to Yashiro's grudge against rival band player, Iori Yagami.
As one of the Four Heavenly Kings of Orochi (the other three being her bandmates Yashiro and Chris as well as the final boss of KOF '96 Goenitz), she uses the tournament to gather enough power to awaken Orochi, which is successful in Orochi's possession of Chris.
The ending of Shermie's New Face Team in KOF '97 has Yashiro killing off both Shermie and Chris before committing suicide. It is believed that this ending, along with the fact that Yashiro and Shermie are willing to give their lives for the resurrection of the Orochi in the cinemas, reinforces the fact that the New Face Team most likely perished in this tournament.
When not using her Orochi powers, Shermie relies on grappling as her combat style. Her grappling gameplay is further improved in KOF98, when she's given a follow-up ground attack, similar to Clark's elbow smash.
In the Orochi storyline, Shermie represents the dark Orochi counterpart to Benimaru Nikaido.

Name
Input
Shermie Stand
+
Shermie Whip
+
Axle Spin Kick
+
Shermie Shoot
+
Shermie Spiral
(close)+
Desperation Move
Shermie Flash
(close)+
Desperation Move
Shermie Carnival
(close)+

Name
Input
Shermie Stand
+
Shermie Clutch
+
Shermie Whip
(close)+
Shermie Spiral
(close)+
__Shermie Cute
+
(after any command throw)
Axle Spin Kick
+
Shermie Shoot
+
Desperation Move
Shermie Flash
(close)+
Desperation Move
Shermie Carnival
(close)+

Name
Input
Shermie Stand
+
Shermie Clutch
+
(use on airborne opponents)
Shermie Whip
(close)+
Shermie Spiral
(close)+
__Shermie Cute
+
(after any command throw)
Axle Spin Kick
+
Shermie Shoot
+
Desperation Move
Shermie Flash
(close)+
Desperation Move
Shermie Carnival
(close)+

Special Moves

| | |
| --- | --- |
| Shermie Whip | + |

| | |
| --- | --- |
| Axle Spin Kick | + |

| | |
| --- | --- |
| Shermie Shoot | + |

| | |
| --- | --- |
| Shermie Spiral | (close) + |
Super Moves

| | |
| --- | --- |
| Shermie Carnival | (close) + |

Throws

| | |
| --- | --- |
| Shermie Flash Original | or + |
Command Moves

| | |
| --- | --- |
| Shermie Stand | + |
Special Moves

| | |
| --- | --- |
| Shermie Whip | + |

| | |
| --- | --- |
| Axle Spin Kick | + |

| | |
| --- | --- |
| Shermie Shoot | + |
Special Moves

| | |
| --- | --- |
| Shermie Spiral | (close) + |

| | |
| --- | --- |
| Shermie Clutch | + |

Shermie Cute
(after Clutch, Whip,
or Spiral) +
Super Moves

| | |
| --- | --- |
| Shermie Carnival | (close) + |