Jump to navigation
Jump to search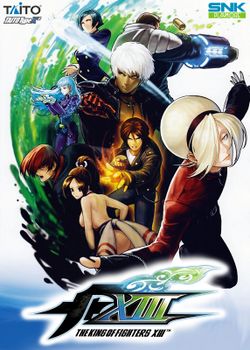 The King of Fighters XIII is the thirteenth installment of The King of Fighters series published by SNK Playmore. There was an official preview of the game that was held on March 25, 2010 at Akihabara. The game acts as the conclusion of Ash Crimson's story arc (The Tales of Ash Saga) which started in The King of Fighters 2003.
The roster of The King of Fighters XIII features all the characters who appeared in The King of Fighters XII, including the two console-exclusive characters, Elisabeth Blanctorche and Mature. In addition, three new characters were announced in the form of The King of Fighters '94 Women's Team (Yuri Sakazaki, King, and Mai Shiranui).
On April 22, 2010, Famitsu reported the addition of two new characters to the game: Vice for Iori Yagami's team and Takuma Sakazaki for the Art of Fighting team, and the following day Hwa Jai from Fatal Fury: King of Fighters was confirmed to be in the game as the final member of Kim Kaphwan's team.
The game was ported to the PlayStation 3, Steam (as The King of Fighters XIII: Steam Edition), and the Xbox 360.
The game takes place after The King of Fighters XI. The fighter Ash Crimson has absorbed the powers from two of the descendants of the clans who sealed the Orochi away 1,800 years ago, Chizuru Kagura and Iori Yagami, while Kyo Kusanagi is to be his last victim. As Elisabeth Blanctorche prepares to stop Ash, fighters receive an invitation to another King of Fighters tournament hosted by a person labeled as "R".
Table of Contents
Character Select
[
edit
]