Jump to navigation
Jump to search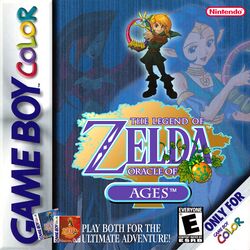 Neoseeker Related Pages
Links
Independent wikis with more information:
The Legend of Zelda: Oracle of Ages (ゼルダの伝説 ふしぎの木の実 時空の章, Zeruda no Densetsu: Fushigi no Ki no Mi: Jikū no Shō?, The Legend of Zelda: Fruit of the Mysterious Tree: Chapter of Time and Space) is an action adventure game from Nintendo's famous The Legend of Zelda series. It was developed by Flagship and published by Nintendo in 2001 for the Game Boy Color. Oracle of Ages is so far the only game in the series to be released simultaneously with another title, Oracle of Seasons. It is also the only time two Zelda titles could interact with each other. This feature allows many hidden items, locations, antagonists, and secrets to be revealed, and causes the plots of both games to merge, continuing to a double ending.
Called by the Triforce, Link travels to the shrine of the sacred relic. He is beckoned by the sacred triangles, and they transport him to a world known as Labrynna, which is in dire need of the legendary hero.
Table of Contents