Jump to navigation
Jump to search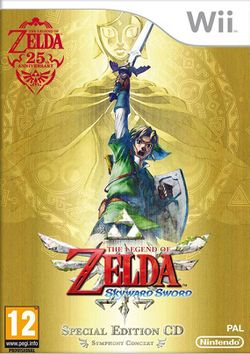 Neoseeker Related Pages
Links
The Legend of Zelda: Skyward Sword is an action-adventure game developed by Nintendo Entertainment Analysis and Development, and published by Nintendo for the Wii video game console. It is the sixteenth installment in The Legend of Zelda series. The game is confirmed to utilize the Wii MotionPlus peripheral for sword-fighting and archery, both staples of the series.
On June 15, 2010, at Nintendo's E3 conference, Shigeru Miyamoto introduced the game, showing a demo of the new control system, and announcing that it would now be released in 2011. The game will feature a graphical style similar to that of The Legend of Zelda: Twilight Princess, albeit with more cel-shading effects. The main features of the new control system are that the sword is controlled by the motion of the Wii Remote, and the shield can be moved by moving the Nunchuk. The Wii MotionPlus allows for near-exact replication of the player's movements of the Wii Remote on the game screen. The Wii Remote's pointer is used for targeting. The game will also feature a redesigned item selection system, and new items designed to take advantage of the new control system.
The Legend of Zelda: Skyward Sword HD
[
edit
]
The Legend of Zelda: Skyward Sword HD features two control schemes, one of which aims to replicate the functions of the Wii Remote Plus and Nunchuck through improved motion controls on the Joy-Con, while the other aims to replicate a traditional control scheme by using the right analog stick to control the previously motion-controlled sword. This secondary control method allows the game to be played in handheld mode, on a Pro Controller, and on the Nintendo Switch Lite.
In addition to higher-resolution graphics, the game now plays at 60 frames per second. Other quality of life features added include autosave, many of Fi's hints now being optional to access, the ability to fast-forward dialogue boxes, the ability to skip cutscenes, and item descriptions no longer appearing after Link first encounters the item.
Amiibo figures have supported functionality, with a new figure depicting Zelda and a Loftwing allowing fast travel between the sky and the surface.
Artwork
[
edit
]
Table of Contents