Jump to navigation
Jump to search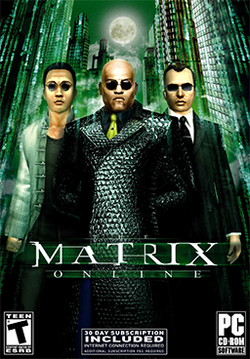 The Matrix Online (also known as MxO) is a massively multiplayer online game developed by Monolith Productions. It is an official continuation of the The Matrix storyline. The game began closed beta-testing in June 2004 which was then opened for people who pre-ordered the game in November 2004. Warner Bros. and Sega officially released MxO on March 22 2005 in the United States. It was released in Europe on April 15, 2005.
Ubisoft backed out of an agreement to co-publish the game, not long after canceling plans for another MMORPG. Ubisoft and Warner Bros. stated that this did not have a negative impact on their relationship. At the time, doubts about the game circled within the industry, based on the lackluster reception of the later two Matrix films and an overcrowded MMORPG market.
On June 17, 2005, Warner Bros. and Sony Online Entertainment, owners of several other online multiplayer game worlds, including EverQuest and Star Wars Galaxies, announced that SOE had picked up the rights from Monolith to operate The Matrix Online. The transition to SOE was completed on August 15, 2005.