Jump to navigation
Jump to search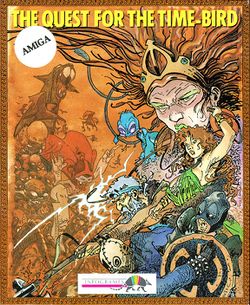 Based on the French graphic novel of the same name, The Quest for the Time-Bird is a fantasy graphic adventure which takes place on the twin-moon fantasy world of Akbar.
There are 9 days left before Ramor, the traitor of the gods, escapes from the conch where they had imprisoned him ages ago. The sorceress Mara sends her daughter Roxanna to her past lover, Bragon, a former hero who has retired from a life of danger and adventures.
The Conch of Ramor is kept as a precious treasure by the Wizard-Prince Shan-Thung of the Gaping Lands, and he must be persuaded to surrender it.
Table of Contents