Jump to navigation
Jump to search
This is the first game in the Ren & Stimpy series. For other games in the series see the Ren & Stimpy category.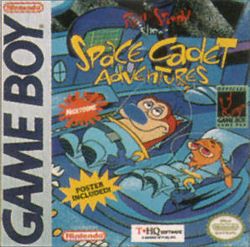 The Ren & Stimpy Show: Space Cadet Adventures is a platform game developed by Imagineering Inc. for THQ and released on the Game Boy in November 1992; it is based on the Spümcø-produced Nickelodeon cartoon series of the same name (which is one of that channel's three original cartoons), and its two main characters (despite being named after them) also didn't star in three of its segments.
This is taken from the back of the game's box, the front of which is displayed in the image to the right:
All systems go!
Blast off into
adventure
in the amazing
year 400 billion
with Commander
Hoek and
his faithful
companion--
--Cadet Stimpy--
as they roam the
endless uncharted
regions of space--
--at speeds so
fantastic--
--they throttle
the imagination!
© MTV Networks 1992
Table of Contents
The Ren & Stimpy Show: Space Cadet Adventures/Table of Contents