Jump to navigation
Jump to search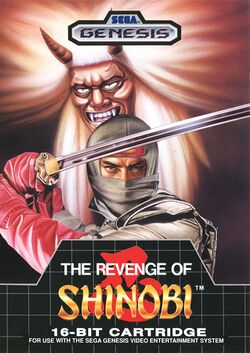 For the Game Boy Advance game, see The Revenge of Shinobi (Game Boy Advance).
The Revenge of Shinobi, published in Japan as The Super Shinobi (ザ・スーパー・忍, Za Sūpā Shinobi?) is a video game developed and published by Sega in 1989. It was the first Shinobi game developed for the Sega Genesis.
The game is a sequel to Shinobi, a 1987 arcade game, and boasts an acclaimed soundtrack by the famous video game music composer Yuzo Koshiro. The game was included in the compilations: Mega Games 2, Mega Games 6, Sega Classics Arcade Collection (for Sega CD), and Sega Smash Pack (for Windows and Dreamcast).
The introductory game screen features famous martial arts actor Sonny Chiba dressed as Hattori Hanzō from the popular Kage No Gundan TV series.
The Revenge of Shinobi is a traditional side-scrolling platform game. The player controls Joe Musashi and must complete eight districts before the final confrontation with the head of Neo Zeed. Each district consists of three scenes, the last of which is a battle against a unique boss-character.
Table of Contents