Jump to navigation
Jump to search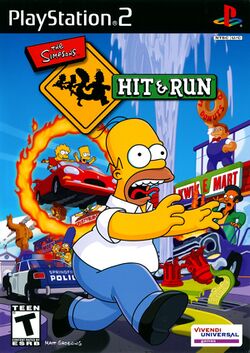 The Simpsons Hit & Run is a Grand Theft Auto-inspired mix of driving and missions, set in the family's home town of Springfield. It was originally released in the US on September 16, 2003, and a month later in the EU on October 24, 2003.
The game is split up into seven different levels, each with seven story missions. Additional missions, purchasable and collectible items, races, and miscellaneous things to do are available in each level.
Players take control of five of the game's main characters, including four members of the Simpsons and Apu the shopkeeper, to investigate the mysterious appearance of wasp spy cameras and strange black vans to uncover a conspiracy involving the new Buzz Cola beverage.
Table of Contents