Jump to navigation
Jump to search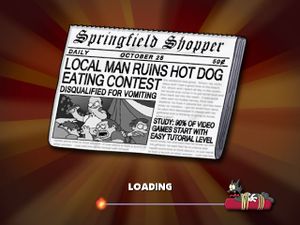 Now, you're in Downtown Springfield with a lot of junctions and highways. Before you get lost in this mayhem, talk to Milhouse.
Detention Deficit Disorder
[
edit
]
In Bart's first mission you must first talk to Milhouse. He will tell you that Principal Skinner is catching all the kids who ditched school. He also says that you need to avoid him or you will get expelled. Then you must drive to the Try N Save. On your way there you will be chased by Skinner. Lose him and then you have beat the mission.
In order to lose Skinner, drive like mad and follow the road to the railroad and the DMV.
Weapons of Mass Delinquency
[
edit
]
For this mission, you need to collect some fireworks to be in this trend. First, go to Moe's. Then talk to Otto and collect the fireworks. Go inside Moe's and talk to him. He'll give you some fireworks. Hurry to the Courthouse and talk to Snake. Collect the fireworks and go to the Police Station. Talk to Ralph, collect the fireworks and use the ramps at the Java and the firetruck ladder to lose Cheif Wiggum.
Vox Nerduli
[
edit
]
You will have to race the nerd to the Java server, because the Comic Book Guy has a rant. You will be forced to use the Kremlin which is slow but so is the nerd car. Race the nerd and avoid crashing to have a better chance of winning.
Bart 'n' Frink
[
edit
]
You must follow a camera van to Herman's military store. The vehicle you're following is slow so it's easy to follow. At the next part of the mission swap your car to the fastest one you have to race Snake in the lil' bandit. If you're lucky a car will push you at the start of the race to give you a boost. If not just avoid crashing and take any shortcuts. When you win collect the radio and complete the mission.
Better Than Beef
[
edit
]
Monkey See Monkey D'oh
[
edit
]
Cell-Outs
[
edit
]
You have to wreck 4 cell-phone users' cars within the time limit.
Dial "B" For Blood (Bonus)
[
edit
]