Jump to navigation
Jump to search
This is the first game in the The Sims series. For other games in the series see the The Sims category.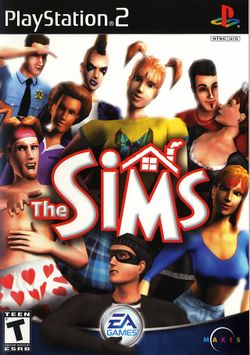 The Sims is a video game for the PlayStation 2, Xbox and GameCube consoles. It is based on the hit PC game of the same name, which went on to become the best selling computer game of all time.
The console version of The Sims is a somewhat different game from the PC version. It features some gameplay modifications, a 3D camera perspective and some resources from some PC expansions: parties, dates, and jobs. However, an object limiter is active on all houses to prevent the player from constructing and furnishing houses too large for the console to load.
Gameplay
[
edit
]
The game also offers a "Free Roam" mode, based on the original game. Simply put, it offers the same gameplay as in the original The Sims game, but with 3D graphics and a furniture limit. There's also more furniture exclusive to consoles like the infamous monkey-butler.
Table of Contents