From StrategyWiki, the video game walkthrough and strategy guide wiki
Jump to navigation
Jump to search
Table of Contents
Stuff Packs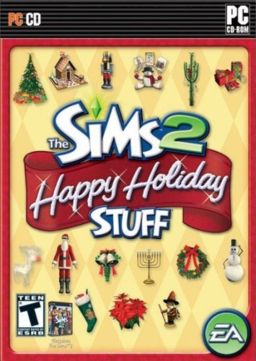 The Sims 2: Happy Holiday Stuff was released on November 7, 2006. A year earlier it was released on November 15, 2005 as The Sims 2: Holiday Party Pack. The main difference is that Happy Holiday Stuff is an upgraded version of the Holiday Party Pack and was released as the third official stuff pack. For purchasers of the 2005 edition, the Happy Holiday Mini pack was released containing all the objects and clothes not included in the 2005 edition.
The holiday pack is unique in that it is the only stuff pack to contain different object types. These include firecrackers, Christmas trees, and Christmas themed sculptures. It also contains objects for other holidays such as Kwanzaa and Hanukkah. The 2006 edition also contained a Chinese New Year theme.
This pack, as well contains two new foods. Santa Cookies and Holiday Roast. If you leave Santa Cookies out at night and own a Christmas tree, the Santa Claus NPC will visit your sim's house and leave a present next to the tree. If he is unable to reach the cookies, he'll leave a lump of coal near the tree.
As well, Happy Holiday Stuff lets you hold a new party; New Years Bash. This party is available all day but doesn't start immediately. Instead it always starts at 8pm. Some time into the party, Father Time will come. At midnight, he turns into Toddler New Year.
This pack was also bundled with The Sims 2 both years it was released. In both counts it was released as The Sims 2: Holiday Edition.