Jump to navigation
Jump to search
This is the first game in the The Trap Door series. For other games in the series see the The Trap Door category.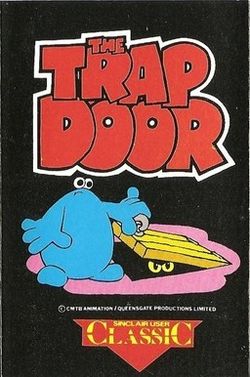 Neoseeker Related Pages
Links
The Trap Door is: an action game, that was released by Piranha (the Amstrad CPC and Commodore 64 versions were developed by Five Ways Software) on the Sinclair ZX Spectrum, Amstrad CPC and Commodore 64 in 1986 and later rereleased by Krajowe Wydawnictwo Czasopism in Poland in 1987; it is based on the CMTB Animation and Queensgate Productions television series of the same name, which was originally aired on BBC1 in 1984 but (like other BBC shows) later moved to Channel Four.
This is from the back of the cassette's inlay card, the front of which is shown in the image to the right:
Somewhere in the dark and nasty regions where
nobody goes, stands an old and spooky castle -
home of the Bad Tempered Thing. In the dark lower
regions of the castle, Berk grudgingly
slaves away carrying out the orders of the Thing.
To win his ultimate reward - a safe full of loot -
Berk has to complete up to five bizarre tasks
(four in Learner mode) quickly and accurately
before the Thing's anger boils over. Each task is
completed when Berk sends his offering Upstairs
on the dumb waiter and the Thing accepts it.

© CMTB Animation/Queensgate Productions 1984, 1986

In 2001, this game got remade for the MS-DOS operating system, with a subtitle Berk's Final Days.
Table of Contents