Jump to navigation
Jump to search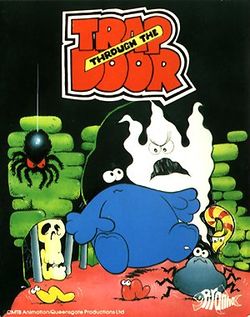 Through the Trap Door, also known as The Trap Door Two (in a broken or corrupted version), is an action game, released by Piranha for the Sinclair ZX Spectrum, Amstrad CPC, and Commodore 64 in 1987; as the name suggests it is a follow-up to The Trap Door, released in the previous year, and it is again based upon that CMTB Animation and Queensgate Productions television series, that originally aired on BBC1 in 1984 (but by this time, it was succeeded, by the rather inferior Stoppitt and Tidyup).
This is from the back of the cassette's inlay card, the front of which is shown in the image to the right:
Berk is back! And he is getting ready to make the fearsome, awesome, totally
terrifying expedition down Through The Trap Door.
If you have seen the creepy critters that live down there, you may well wonder
why. But the truth is he has no choice. Boni has been captured and taken down
into the gloomy depths, so Berk and little Drutt must go to the rescue, no
matter what nasties they come up against. And what about all those potions lying
about waiting to be drunk? Could they be helpful, could they mean trouble, or
could they even cause (gasp) constant ponging! Speed, skill and daring will be
necessary to get out alive!
© CMTB Animation/Queensgate Productions 1984, 1987
Table of Contents