Jump to navigation
Jump to search
This is the first game in the Time Crisis series. For other games in the series see the Time Crisis category.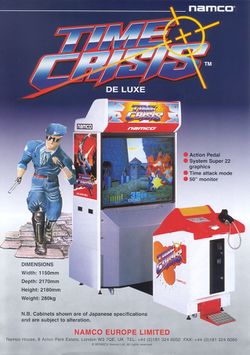 Neoseeker Related Pages
Links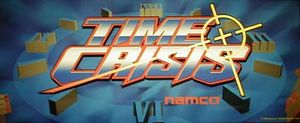 Time Crisis is a first-person shooter arcade game that was released by Namco in 1995; it runs upon the company's System 22 hardware and was the first lightgun game from the company to not have a multiplayer mode. When Rachel Macpherson (the daughter of the President of the fictitious Serushia Republic) is kidnapped by the "Wild Dog Organization", VSSE (which stands for "Vital Situation Swift Elimination") hear about it, and send operative Richard Miller (who the player assumes the role of) to the old castle of the republic (on a mission to save the day) - and unlike in earlier Namco first-person shooters, each of this game's three stages are divided into several areas for which Miller must kill all the enemies before the timer runs out (or he runs out of lives, from getting hit too many times, but he can only get hit when the player has his or her foot on the cabinet's pedal to bring him out of hiding). The game also has a "Timed Game" mode, for which the player selects one of the three stages, and the game gives Miller an infinite amount of lives to kill all the enemies on it before the timer runs out.
Table of Contents