Jump to navigation
Jump to search
This is the first game in the Spawn series. For other games in the series see the Spawn category.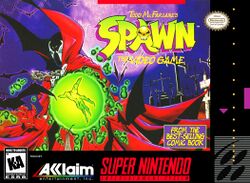 Todd McFarlane's Spawn: The Video Game (also known as Spawn) was the first game of several to come out of the Spawn franchise. A 2D side scroller, Spawn mixes elements of the beat 'em up and platform genres, placing emphasis on dodging, jumping, climbing, and defeating large amounts of enemies by repeatedly attacking them. Unlike traditional beat 'em ups, the game also features special moves that can be initiated by performing a series of button presses, very similar to fighting games.
The game takes place in New York city, where thirteen children have been kidnapped. Spawn decides to investigate.
Table of Contents