From StrategyWiki, the video game walkthrough and strategy guide wiki
As an arcade skating game, Tony Hawk's Pro Skater has a ton of different moves, each with their own point values and animations. The key to scoring big is to use as many different tricks as possible, because repeating the same tricks diminishes their value, down to one-tenth of their original score. Although some moves are universal across the roster, some skaters have different basic movies and signature moves depending on type of skating they prefer: vert or street.
Note that any score with a + means that it can be held down continuously for extra points such as grinds and handplants.
Flip Tricks
[
edit
]
| Name | Command | Points |
| --- | --- | --- |
| 360 Shove It | + | 250 |
| Fingerflip | + | 600+ |
| Hardflip | + | 300 |
| Heelflip | + | 100 |
| Front Foot Impossible | + | 600 |
| 360 Flip | + | 300 |
| Impossible | + | 250 |
| Varial | + | 800 |
| Sex Change | + | 500 |
| Kickflip | + | 100 |
| Kickflip to Indy | + | 625+ |
Grab Tricks
[
edit
]
| Name | Command | Points |
| --- | --- | --- |
| Japan Air | + | 367+ |
| Rocket Air | + | 367+ |
| Indy Nosebone | + | 315+ |
| Benihana | + | 420+ |
| Tailgrab | + | 315+ |
| Stalefish | + | 315+ |
| Method | + | 315+ |
| Madonna | + | 525+ |
Rotations
[
edit
]
| Name | Command | Points |
| --- | --- | --- |
| 180 Ollie | + / | 50 |
| 360 Ollie | + / | 100 |
| 540 Ollie | + / | 150 |
| 720 Ollie | + / | 200 |
| 900 Ollie | + / | 250 |
| Name | Command | Points |
| --- | --- | --- |
| 50-50 Grind | | 100+ |
| Nosegrind | + | 125+ |
| Crooked Grind | + / | 150+ |
| Boardslide | + / | 100+ |
| Smith Grind | + / | 125+ |
| 5-0 Grind | + | 100+ |
Other Moves
[
edit
]
| Name | Command | Points |
| --- | --- | --- |
| Nollie | + | 200 |
| Fastplant | + | 250 |
| Handplant | + | 1000+ |
| Wallride | | 500 |
Signature Moves
[
edit
]
Tony Hawk
[
edit
]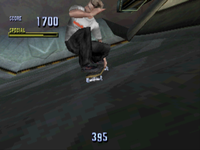 | Name | Command | Type | Points |
| --- | --- | --- | --- |
| 540 Board Varial | + | Flip | 2000 |
| 360 Flip to Mute | + | Flip | 1500 |
| Kickflip McTwist | + | Grab | 4000 |
| The 900 | + | Grab | 8000 |
Bob Burnquist
[
edit
]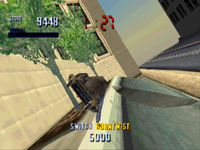 | Name | Command | Type | Points |
| --- | --- | --- | --- |
| Backflip | + | Grab | 4000 |
| One Footed Smith | + | Grind | 750+ |
| Burntwist | + | Lip | 5000 |
Kareem Campbell
[
edit
]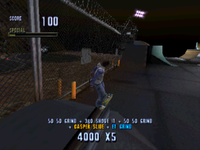 | Name | Command | Type | Points |
| --- | --- | --- | --- |
| Frontflip | + | Grab | 4000 |
| Kickflip Underflip | + | Flip | 1500 |
| Casper Slide | + | Grind | 750+ |
Rune Glifberg
[
edit
]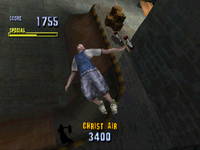 | Name | Command | Type | Points |
| --- | --- | --- | --- |
| Kickflip McTwist | + | Grab | 4000 |
| Christ Air | + | Grab | 2100 |
| Front Back Kickflip | + | Grind | 1575 |
Bucky Lasek
[
edit
]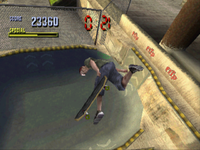 | Name | Command | Type | Points |
| --- | --- | --- | --- |
| Fingerflip Airwalk | + | Grab | 2000 |
| Varial Heelflip Judo | + | Flip | 2500 |
| Kickflip McTwist | + | Grab | 4000 |
Chad Muska
[
edit
]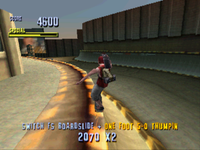 | Name | Command | Type | Points |
| --- | --- | --- | --- |
| Frontflip | + | Grab | 4000 |
| 360 Shove It Rewind | + | Flip | 1500 |
| One Foot 5-0 Thumpin | + | Grind | 750+ |
Andrew Reynolds
[
edit
]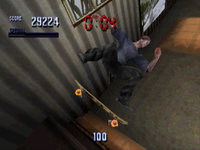 | Name | Command | Type | Points |
| --- | --- | --- | --- |
| Backflip | + | Grab | 4000 |
| Triple Kickflip | + | Flip | 1500 |
| Heelflip to Bluntslide | + | Grind | 750+ |
Geoff Rowley
[
edit
]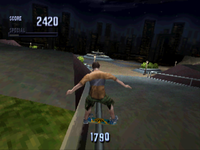 | Name | Command | Type | Points |
| --- | --- | --- | --- |
| Darkslide | + | Grind | 750+ |
| Backflip | + | Grab | 4000 |
| Double Hardflip | + | Flip | 1500 |
Elissa Steamer
[
edit
]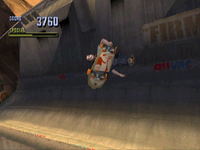 | Name | Command | Type | Points |
| --- | --- | --- | --- |
| Backflip | + | Grab | 4000 |
| Judo Madonna | + | Grab | 1500 |
| Primo Grind | + | Grind | 750+ |
Jamie Thomas
[
edit
]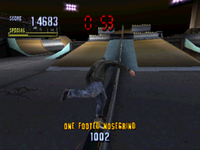 | Name | Command | Type | Points |
| --- | --- | --- | --- |
| Frontflip | + | Grab | 4000 |
| 540 Flip | + | Flip | 1500 |
| One Footed Nosegrind | + | Grind | 750+ |
Officer Dick
[
edit
]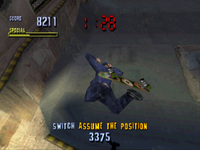 | Name | Command | Type | Points |
| --- | --- | --- | --- |
| Yeehaw Frontflip | + | Grab | 4000 |
| Assume the Position | + | Grab | 1575 |
| Neckbreak Grind | + | Grind | 750+ |
Private Carrera
[
edit
]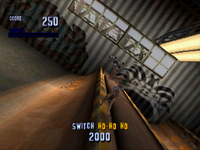 | Name | Command | Type | Points |
| --- | --- | --- | --- |
| The Well Hardflip | + | Flip | 5500 |
| Ho-Ho Ho | + | Lip | 2000 |
| Somi Spin | + | Grab | 5500 |