Jump to navigation
Jump to search
This is the first game in the Touch Detective series. For other games in the series see the Touch Detective category.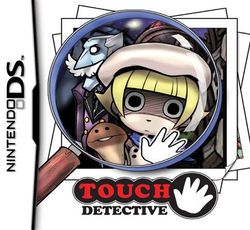 Touch Detective (おさわり探偵 小沢里奈 Osawari Tantei: Osawa Rina, "Touch Detective: Rina Osawa"), also known as Mystery Detective in Europe (except in France), is an adventure game for the Nintendo DS that utilizes the touch screen to solve mysteries. It was developed by BeeWorks and released in Japan by Success Corporation. It was developed and released in the United States by Atlus, and in Europe by 505 Games.
The game's sequel, Touch Detective 2 ½, was released in North America on October 9, 2007.
The player controls the titular detective Mackenzie as she solves four mysteries in the small town of Osawari. Both the art style and the plot reflect a subtle fantasy mood – for example, the first case is to track down a thief who is stealing someone's dreams. Aside from the main plots, there are also a number of small bonus mysteries that involve much simpler tasks. There is also a Touch Notebook containing a list of major items in the game the player has touched.
The game is entirely controlled via the touch screen. Tapping a location on the screen will talk to a character or examine an object. The player has an inventory of items collected, and may use them on other items or objects in the environment. The player can also communicate with the characters along conversation trees or present inventory items to them to learn new information. Mackenzie's pet mushroom, Funghi, is used as an aid in some puzzles.
Table of Contents