Jump to navigation
Jump to search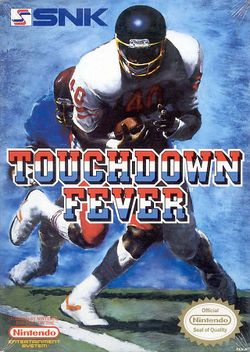 Touchdown Fever is the NES conversion of the arcade game of the same title which was ported by K Amusement. It was first published in Japan by SNK in late 1988, under the title Touchdown Fever American Football (タッチダウンフィーバー アメリカンフットボール, Touchdown Fever American Football?) where it was only the second American Football title published for the system after Irem's 10 Yard Fight. It was published in North America until 1991, at which time there were several football games available.
Gameplay
[
edit
]
This conversion of the arcade game takes the obvious route of simplifying the graphics as the Famicom/NES was incapable of matching the quality of the arcade visuals. However, it keeps a great deal of the gameplay in tact, including the ability to play against the computer alone, to play head-to-head against another player, or to team up two players against the computer. It even expands upon what's available in the arcade version by allowing the player to choose from among 5 types of plays between downs (a feature which may have been inspired by the play selection screen added to Touchdown Fever II in arcades). The plays are: Long Pass, Short Pass, QB Sneak, Backs (a hand-off) or Punt/Field Goal (Field Goals could only be attempted if the line of scrimmage was within the 15-yard line). Field Goals would always go through the uprights unless blocked by the opposing team. Despite the NFL not adopting this rule until the 1994 season, A player could attempt a 2-point conversion if so desired.
Although the ability to select the direction of your pass through a rotary joystick is unavailable, you are given two choices of players to pass to with either the A button or the B button. This version featured teams that originated from cities that had NFL teams at the time (such as Seattle and Phoenix) but not the colors or the nicknames. The cities include: Chicago, Detroit, Miami, New York, Philadelphia and Pittsburgh for the "East" side and Dallas, Denver, Los Angeles, Phoenix, San Francisco and Seattle for the "West" side.
Table of Contents