Jump to navigation
Jump to search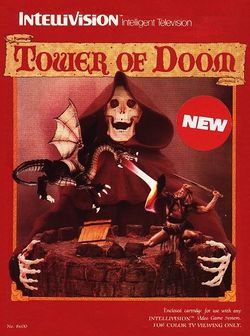 For the hack and slash game, see Dungeons & Dragons: Tower of Doom.
Tower of Doom is an action-adventure developed by INTV Corp. for the Intellivision and released in 1987.
It is the last title in a trilogy of action-adventure games for the Intellivision, begun with AD&D Cartridge: Cloudy Mountain and AD&D Cartridge: Treasure of Tarmin. Even if Tower of Doom is outside the Dungeons & Dragons licence, it has more D&D elements than its two predecessors. An unreleased prototype of a port for the Atari 2600 exists.
Table of Contents