Jump to navigation
Jump to search
This is the first game in the Trauma Center series. For other games in the series see the Trauma Center category.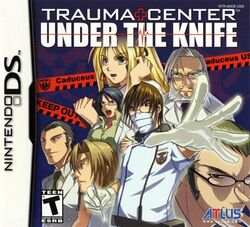 Neoseeker Related Pages
Links
Trauma Center: Under the Knife is a surgical game for the Nintendo DS. In the game, you play as Derek Stiles, a doctor whom has just completed residency. The story will play itself out, but you will need to complete the operations in order for the story to advance. This game is very hard and not for the short tempered.
Table of Contents