Jump to navigation
Jump to search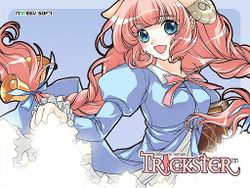 Trickster Online (also known as Trickster: Links to Fantasy and Trickster Online Revolution) (Korean: 트릭스터) is a free, 2D isometric MMORPG developed by the Korean company Ntreev Soft.
Gameplay in Trickster is mostly click-and-fire based; movement, combat, and many other commands are all controlled by

. Gameplay also includes a few non-combat "systems". First, there is the Drill System, in which a player drills in certain types of terrain for items and EXP. Second, there is the Card Battling System, which sets two characters against each other in a game of cards, played with card items found by various means during normal gameplay. The game is currently released under all its versions as a free-to-play MMORPG but with a Cash Shop feature, also known in game as MyShop, that allows purchase of in-game items through real cash/credit charging.
Table of Contents