Jump to navigation
Jump to search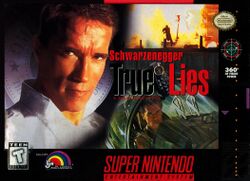 For the Game Boy and Game Gear versions, see True Lies (Handheld).
True Lies is an action game published by LJN (SNES) and Acclaim Entertainment (Genesis) and developed by Beam Software and released on the SNES and Genesis on February 1995. Based on the 1994 blockbuster action-comedy of the same name directed by James Cameron and starring Arnold Schwarzenegger, the game has the main protagonist Harry Tasker as he goes through level to level fighting the terrorist group the Crimson Jihad. The game is shown on a top angled view as Harry goes through level to level fighting the Crimson Jihad terrorists as well as completing objectives. Throughout each level, Harry collects items and weapons to help him on his mission as well as some secret areas. This would be one of the last games to be released under the LJN name before it was absorbed into Acclaim (until 2000 where it was briefly revived and published the Sega Dreamcast game Spirit of Speed 1937).
Story from the True Lies manual:
Meet Harry Tasker. His wife and daughter think he's a slightly dull computer salesman, but his friend and colleague Albert "Gib" Gibson knows the truth: Harry is a top agent for Omega Sector, an ultra-secret government agency whose motto "The Last Line of Defense" spells out its mandate to prevent any terrorist attacks to freedom!
Harry has the fate of a nation and the fight of a lifetime on his hands when the Crimson Jihad, a fanatic terrorist group led by the ruthless Abu Aziz, steals nuclear warheads from the former Soviet Republic of Kazakhstan and threatens to detonate them on U.S. soil unless their demands are met!
Together with Gib, Harry must risk everything to prevent devastating destruction. The action is global as Harry's mission takes him from the snowy slopes of Switzerland to the forbidden city of China, with deadly stops in the Florida Keys and a host of other locales that will prove unhealthy to the unwise. There's plenty of scenery, but it's no vacation!
Each mission is more menacing than the last, but each brings Harry closer to his goal- diffusing the warheads and disposing of Crimson Jihad hotheads! Harry is closing in on his sinister foe, but Aziz has one last trick up his sleeve- he makes it personal when he involves both Harry's wife, Helen, and their daughter, Dana. Big mistake! If Harry can rescue them from harm's way, payback is gonna be a hurtin' thing!
Gallery
[
edit
]
Table of Contents