Jump to navigation
Jump to search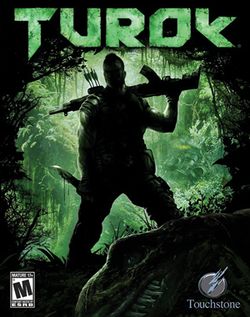 This guide is for the 2008 game. For other games in the series, see Category:Turok.
Turok is a 2008 first-person shooter video game developed by Propaganda Games and published and distributed by Disney Interactive Studios under the Touchstone banner.
You take the role of Joseph Turok. Previously, Turok was a member of Wolf Pack, a specialized military detachment whose members were trained in black ops by General Roland Kane. After a falling out with the group, Turok was reassigned back to the military and was eventually made the newest member of Whiskey Company—a team that has been assembled to apprehend his former mentor and return him to Earth. Formerly 'General' Kane, he had supposedly disappeared three years earlier only to have surfaced once again on a world under the jurisdiction of the Mendel-Grumman (M-G) Corporation.
Table of Contents