From StrategyWiki, the video game walkthrough and strategy guide wiki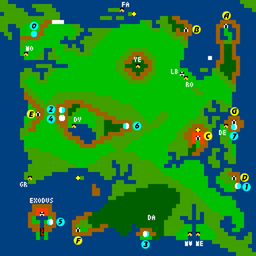 The Perinian Depths are located on a peninsula north-east of Lord British's Castle. They conceal the Mark of Force and the Mark of Kings, that can also be found in many other dungeons, therefore the game can be cleared without entering this dungeon.
The Perinian Depths were renamed "Cave of Gold" in the NES version.
Legend:
G = Gremlin (steals food)
T = Trap
W = Strange wind (blows out torches)
Floor
Map
Notes
Floor 1
Sign 1: "Perinian Depths"
k = Mark of Kings

C = Cure poison fountain
P = Poison fountain
Floor 2
Sign 2: "Go back!"

H = Healing fountain
C = Cure poison fountain
P = Poison fountain
Floor 3
Sign 3: "Not here!"

Floor 4
Sign 4: "Quarter each!"

Floor 5
Sign 5: "Death awaits!"

Floor 6
Sign 6: "Map well!"

Floor 7
Sign 7: "Gremlins!"

Floor 8
Sign 8: "Go back!"
i = Mark of Fire
k = Mark of Kings

H = Healing fountain
C = Cure poison fountain