Jump to navigation
Jump to search
This is the first game in the Uncharted series. For other games in the series see the Uncharted category.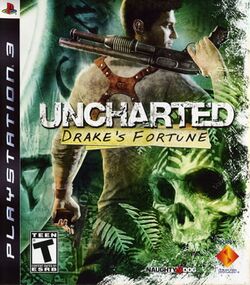 Uncharted: Drake's Fortune (アンチャーテッド エル・ドラドの秘宝, Anchateddo Eru・Dorado no Hihō?, lit. "Uncharted: El Dorado's Treasure") is an action-adventure video game developed by Naughty Dog, and published by Sony Computer Entertainment for PlayStation 3. Combining platforming and third-person shooter elements, the game charts the journey of protagonist Nathan Drake, supposed descendant of the explorer Sir Francis Drake, as he seeks the lost treasure of El Dorado, with the help of friend Victor "Sully" Sullivan and journalist Elena Fisher.
Finding Francis Drake's coffin, Nathan Drake, accompanied by his documentarian Elena Fisher and long-time friend Sully, acquires the ancient explorer's journal, which hints at the treasure of El Dorado. Drake and Sully immediately engage in the hunt for the treasure, with Elena joining along the way. However, another treasure hunter, Gabriel Roman, is also on El Dorado's trail. Drake and friends will have to overcome Roman's forces and the dreadful secrets left in El Dorado's wake to unveil the mystery surrounding the legendary treasure.
Table of Contents
Handheld:
Compilation(s):