From StrategyWiki, the video game walkthrough and strategy guide wiki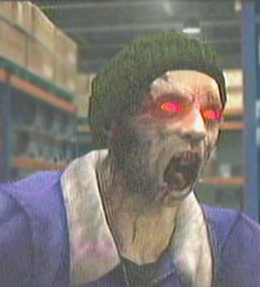 Thank you: User:Ryan Schmidt/Scripts
Need photo of:
Despite power failures, lights never turn off in the huntin' shack, colbie's cinema, crispins, seons, the security room, and bathrooms
Lights only turn on the motorbikes and cars at night.
You can throw paint on the movie theater screen to make pretty abstract art.
Frank can interact with zombies through the doors, shooting them, throwing items at them, etc.
Frank can pick up the lawn mower (when it stalls) the grocery cart (including weapons cart, when they are off balance), but cannot pick up the motorcycle.
Convicts respawn at 12 am every morning.
To take photos of an item better, throw the item at the wall, sometimes when the item bounces off the wall the item lands with a different view.
Survivors can ride in the car with Frank.[1]
The white car underneath Paradise Plaza can hold 4 passengers, Frank, one in the passenger seat and 3 in the back seat.
The red convertible in the parking lot next to the maintenance tunnels can hold 3 passengers, Frank, one in the front and 2 in the back.
The convicts jeep can hold only one passenger.
Neither the motorcycles nor the big white trucks can hold anyone.
Screenshots for Day 2
[
edit
]
The best time in the Dead rising game day to take Dead Rising screenshots of stores on Day 2 is at night in all plazas except the North Plaza. On day two lights turn on at 6 pm, until 10 pm, when the lights turn off throughout the mall.
The power is off during the 1st night.
North Plaza
[
edit
]
The best time to take photos is late afternoon, particularly right before the Vietnam Vet Psychopath.
Dead rising screenshots not used yet
[
edit
]
Zombies
[
edit
]
survivors: needs to be fixed
[
edit
]
Kitano
Yuu
David

Kindell Johnson
Ray Mathison
Nathan Crabbe
Michelle Feltz
Beth Shrake
Cheryl Jones
Gil Jiminez
Brett Styles
Jonathan Picardson
Alyssa Laurent