Jump to navigation
Jump to search
This is the first game in the Uta no Prince-sama series. For other games in the series see the Uta no Prince-sama category.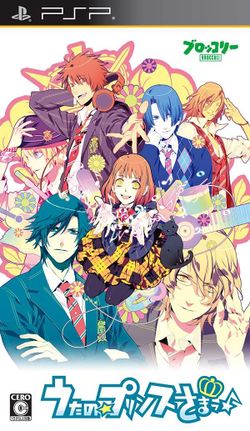 Uta no☆Prince-sama♪ (うたの☆プリンスさまっ♪, Uta no☆Purinsu-sama♪?, lit. "Prince of Song") is a PSP adventure game, released on June 24, 2010 in Japan by Broccoli. It is an otome game, targeted toward a female audience, which focuses on romance and comedy. It is unique in that the story centers around music, with all character voice actors having the ability to sing. This talent is usually shown in original songs, composed in the story by the protagonist. An example of this is the game's theme song, (蒼ノ翼, Ao no Tsubasa?, lit. "Blue Wings"), sung by Mamoru Miyano, the voice of Tokiya Ichinose.
Fifteen-year-old Haruka Nanami is beginning her life at Saotome Academy, a school of music which itself is run by successful singer Shining Saotome. Her dream is to become a composer so she can make music for her idol, Hayato. However, her talents happen to catch the attention of six other musicians, who have their eyes set on the post-graduation chance to join Shining Agency; an idol and composer team must create a song which they will then perform for the right to become debut artists in the agency. As Haruka becomes close to the boys, she must choose a partner who she will compose music for, all while facing struggles on the road to graduation.
Table of Contents