Jump to navigation
Jump to search
This is the first game in the Vandal Hearts series. For other games in the series see the Vandal Hearts category.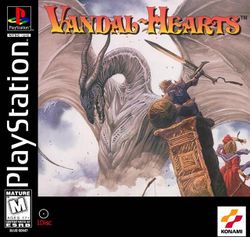 Vandal Hearts (ヴァンダルハーツ) is a Japanese tactical RPG by Konami, developed by Konami Computer Entertainment Tokyo for the Sony PlayStation and by Konami Computer Entertainment Nagoya for the Sega Saturn. The PlayStation version was distributed in Japan, North America, and Europe. The Saturn version was never released outside of Japan.
It was among the first console role-playing games to be released for the 32-bit systems. It was one of the earliest tactical role-playing games to be released in North America, and garnered a small cult following. The game proved popular enough to spawn a sequel, Vandal Hearts II, exclusively for the PlayStation, as well as a planned title for the Nintendo DS.
Table of Contents