Jump to navigation
Jump to search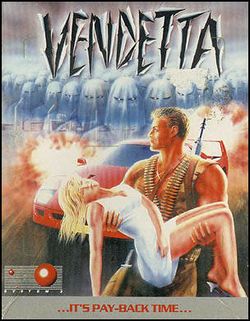 For the arcade game, see Vendetta (arcade).
Vendetta is a Beat 'em up game released in 1989 by System 3. The protagonist is a mercenary that discovers that an inventor of a suitcase-sized nuclear device and his daughter were kidnapped by terrorists. These terrorists have made impossible demands and have threatened to detonate the device within an hour if they are not met.
The game has both adventure and beat 'em up components. To progress through the game, you need to head into the many rooms collecting both pieces of evidence and other items that you will need. The player is given one hour to finish all seven stages to complete the game.
Table of Contents