Jump to navigation
Jump to search
This is the first game in the Viewtiful Joe series. For other games in the series see the Viewtiful Joe category.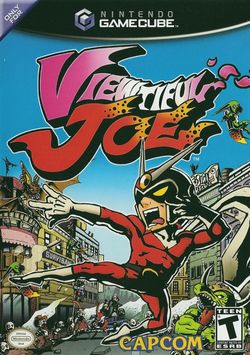 Viewtiful Joe is a side-scrolling beat-em-up game developed by Team Viewtiful and published by Capcom. It is the first game in the series. The game fuses classic side-scrolling beat-em up gameplay, stylish cell-shaded visuals, wacky, over-the-top characters and innovative time manipulation mechanics into a unique action experience. Viewtiful Joe was originally developed exclusively for the Nintendo GameCube in 2003, but was later ported to the PlayStation 2 in 2004.
Story from the Viewtiful Joe manual (US version):
Joe's on a movie date with his girl, Silvia... Suddenly, the movie bad guys grab Silvia and pull her into the movie screen! Joe leaps to the rescue... and gets sucked into the movie too! Here, Joe meets his hero, Captain Blue, who grants Joe super hero powers. Joe transforms into... Viewtiful Joe ...and fights evil in order to rescue Silvia!
VFX Power! Use the power of VFX to change the world! Viewtiful means Beautiful View! VFX is Viewtiful Effects! The incredible scenes, moves, and special effects will captivate your eyes! Enter a world of eye-popping "how-do-they-do-it" illusions, and discover that LIFE IS VIEWTIFUL!
Table of Contents