Jump to navigation
Jump to search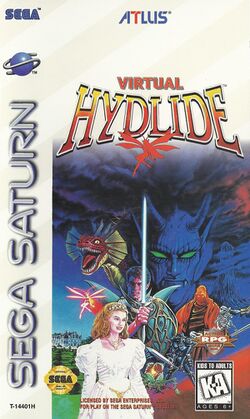 Virtual Hydlide is an action-adventure video game for the Sega Saturn console, developed by T&E Soft. It is a remake of the original Hydlide, the first game in the series, but incorporates full 2.5D graphics.
Virtual Hydlide was panned by players and critics alike for its sub-par graphics system that sometimes went below five frames per second, poor enemy artificial intelligence and physics, and uninspired story. The game was, however, praised for the concept of generating a unique playing world for each new quest.
The player takes on the role of a hero on a quest to defeat an evil demon named Varalys, who has turned the princess of Hydlide into three fairies. Before confronting Varalys, the hero must find the fairies and three magical jewels to restore the princess to her regular self.
The game involves typical adventure/RPG fare, in which the player roams the world (the titular Hydlide), searching through dungeons for weapons and armour. Virtual Hydlide, however, differs by offering to level the player up only after completing certain portions of the game, whereas most RPGs level the player up once they have obtained a certain amount of experience points.
Table of Contents