Jump to navigation
Jump to search
This is the first game in the Wacky Races series. For other games in the series see the Wacky Races category.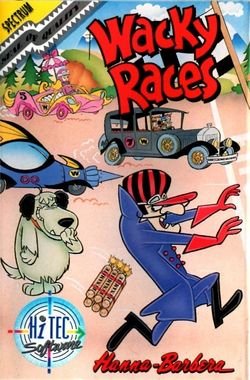 Designer(s)
Nick Byron (Amiga),
Fred O'Rourke, Sean Conran, Richard Morton (ZX),
Nick Taylor (C64)
Release date(s)
Genre(s)
Platform/Racing
Players
1
Modes
Single player
Wacky Races is a platform & racing game which was originally developed by Enigma Variations and released by Hi-Tec Software upon the Commodore Amiga in 1991 but was later redeveloped by PAL Developments for the Sinclair ZX Spectrum, Amstrad CPC and Commodore 64 (the last version was released by Rave) in 1992; it's based on the Hanna-Barbera cartoon series of the same name, which originally aired upon US television in 1968, and begat two spin-offs, Dastardly and Muttley and Their Flying Machines (also known as Stop That Pigeon) and The Perils of Penelope Pitstop, the following year. It was also the only Hi-Tec H-B game which had its 8-bit versions released after the 16-bit one.
This is taken from the back of the disk's, or cassette's in the case of the ZX, CPC and C64 versions, inlay card, the front of which is shown in the image to the right (Dastardly is running from dynamite):
And now, here are the most dare
devil group of daffy drivers to ever
whirl their wheels in the Wacky
Races, competing for the title
"World's wackiest racer."
Take the part of Dick Dastardly, the
master of villainy and with your
unfaithful dog Muttley in this Wacky
Computer Game Race.
© Hanna-Barbera Productions Inc. 1991
Although all ten of the other Wacky Racers were present in the original Commodore Amiga version of the game, only the Slag Brothers (1), Peter Perfect (9) and Rufus Roughcut (10) are in the 8-bit ones.
Table of Contents