Jump to navigation
Jump to search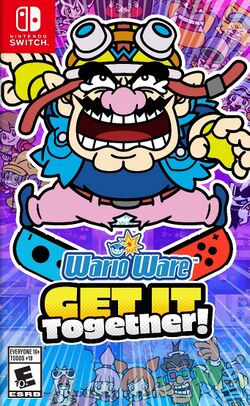 WarioWare: Get It Together! (おすそわける メイド イン ワリオ, Osusowakeru Meido in Wario?, lit. Share With Others: Made in Wario) is a minigame party video game co-developed by Nintendo EPD and Intelligent Systems for the Nintendo Switch. It is the tenth installment in the WarioWare series, following WarioWare Gold (2018) for the Nintendo 3DS, and was announced at E3 2021 during the Nintendo Direct presentation. A demo of the game released on the Nintendo eShop on August 19, 2021. The game released worldwide on September 10, 2021.
Get It Together! continues the WarioWare series tradition of tasking players with completing sets of "microgames", which each require the player to clear an objective in just a few seconds. In this game, Wario and his friends have been sucked inside his latest gaming device, meaning they must participate in the microgames themselves.
The game begins with Wario and his friends at his company WarioWare Inc. when Wario finishes the game they've been developing. When he tries to start it however, the console doesn't turn on, much to Wario and his friends' confusion. Annoyed, Wario throws the console in the air and he, along with his friends, get sucked inside the game. When he wakes up, he discovers that his game is riddled with "Game Bugs", which cause corruption and glitches within the game's levels. Wario and his friends have to destroy these bugs by beating their respective levels.
Table of Contents