Jump to navigation
Jump to search
DinoMighty is the first world boss Wario encounters, ending out Excitement Central. This dinosaur has a number of attacks to hinder your progress. Fortunately, this boss's arena has several Columns to use if you need help.
Attacks
[
edit
]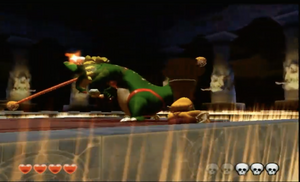 The first attack DinoMighty tends to use is when Wario is within eyesight. Her eyes will turn red, indicating the attack is about to occur. She will stick out her long tongue, which has a glue globe attached to it. Should Wario be caught by the tongue, he will be eaten and take damage. To avoid this, simply run to the side or behind the boss.
The second attack is a large leap across the arena. If caught underneath, Wario will be crushed and take damage. There is a similar attack with a shorter distance that emits shockwaves which push Wario away.
If Wario gets too close to DinoMighty, she may also try to just step on Wario.
Strategy to defeat
[
edit
]
DinoMighty has a glue globe on her tail. When the tail lowers, Wario can hop on and be lifted high in the air—enough to jump off and perform a ground pound on DinoMighty's head. This will stun the boss, allowing the use of a Mad Move to deal damage. There is no major change in difficulty as the fight progresses.
Another method is to throw a pillar to instantly stun her. There are only a limited amount of pillars to use, so try not to miss.
Clearing this boss unlocks Spooktastic World.