Jump to navigation
Jump to search
Interaction with the game is done solely through accessing menus and selecting options on the screen. The main page shows the location and time at the top left, though it does not indicate how much time is left in a case. Below this is a set picture corresponding to the location. On the left side is a short description of the location and four menus below it: "See", "Depart", "Clues", and "Crime Computer".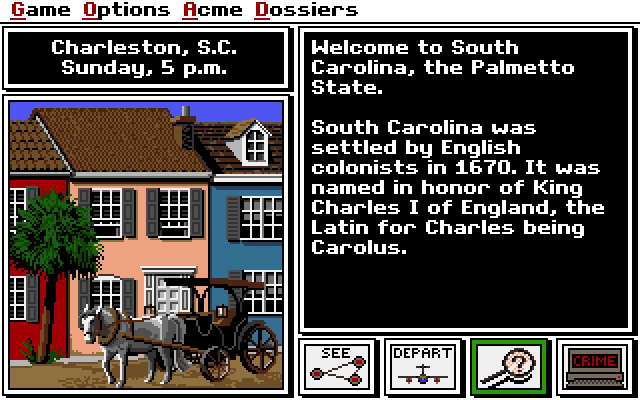 The "See" button allows you to see which destinations you can travel to next.
The "Depart" button will allow you to choose a destination to travel to.
The "Clues" button will bring up the clues subscreen, showing you which areas you can investigate for clues.
The "Crime Computer" button will bring up the crime computer where you can update the clues you have of the suspect, narrow down the results, and eventually issue a warrant for the suspect.
For any of the alternate screens or subscreens, simply pressing esc will bring you back to the main screen if you don't want to perform any actions in these screens. Each of these subscreens will have options of their own to perform basic tasks to help you track down the suspect.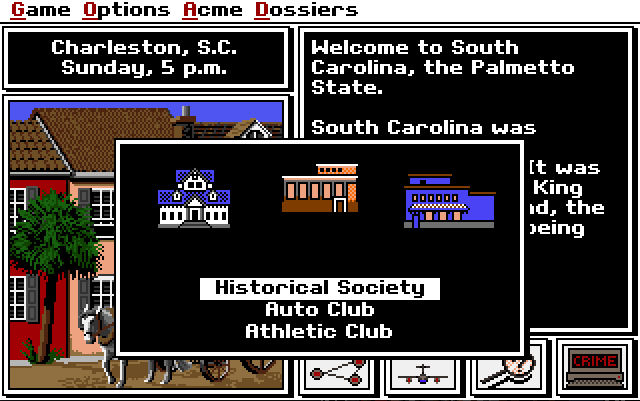 This subscreen will appear over the main screen when the "clues" button is clicked. This menu gives three options, randomized for each location, where you will speak to a witness and get clues about the suspect's next location and possibly a clue about who he or she is. After speaking with the witness, you can hit enter to come back to this screen or esc to return to the main screen.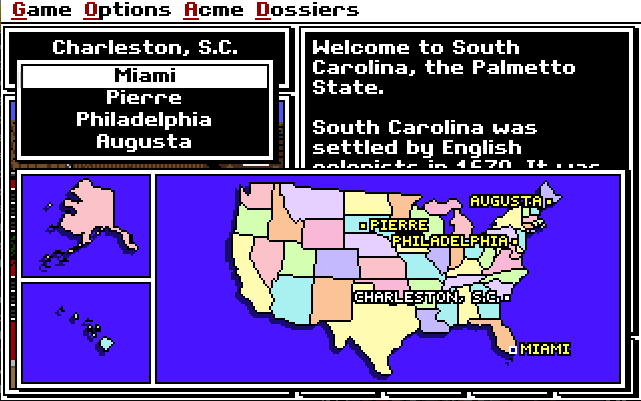 This screen will appear when the "Depart" button is clicked. This menu will give you three or four options for the next destination. Press  ↑  or  ↓  to navigate the menu, then hit enter to select the destination. To exit this screen, hit esc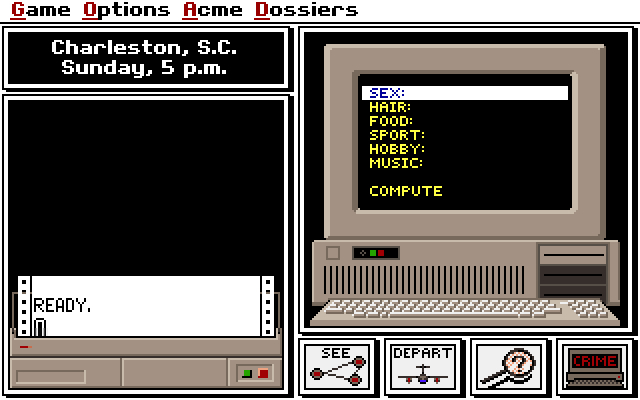 This screen will appear when the "Crime Computer" button is clicked. This menu will allow you to change, add, or remove clues about the suspect. Use the arrow keys to navigate up and down the list, then enter to modify an attribute. You can then use the arrow keys again to choose a specific feature and enter again to lock it in. You can hit esc to return to the main menu or enter on "Compute" to narrow down the suspects. Either way, the computer will remember the clues you entered.