Jump to navigation
Jump to search
The Wii was released around the world in late 2006. Codenamed "Revolution" during most of its development, the official name was announced by Nintendo on April 27, 2006, ahead of that year's E3 game show. Nintendo's goal, as stated by their president as well as other key figures, was to "expand the audience of gaming", using with a simple motion-sensitive controller which resembles a television remote (see photos below).
Controller
[
edit
]
The Nintendo Wii has a remote-shaped controller. This has a motion sensor and it also has a built-in speaker with a rumble feature.
Wii Wheel is the first first-party wheel add-on and is packaged with Mario Kart Wii.

Wii Balance Board detects shifts in weight and is used for the Wii Fit game.
Wii MotionPlus
[
edit
]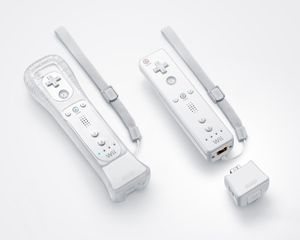 The Wii MotionPlus is an expansion device for the Wii Remote video game controller that allows it to more accurately capture complex motion. According to Nintendo, the sensor in the device supplements the accelerometer and Sensor Bar capabilities of the Wii Remote to enable actions to be rendered identically on the screen in real time. The device incorporates a dual-axis "tuning fork" angular rate sensor, which can determine rotational motion. The information captured by the angular rate sensor can then be used to distinguish true linear motion from the accelerometer readings. This allows for the capture of more complex movements than possible with the Wii Remote alone.
The Wii MotionPlus features a pass-through External Extension Connector, allowing other expansions such as the Nunchuk or Classic Controller to be used simultaneously with the device. The attachment has a color-coded mechanical slide switch for locking the clip release. When attached to the Wii Remote, the unit extends the length of the controller body by approximately 1½ inches (4 cm). Each Wii MotionPlus incorporates a longer, custom version of the Wii Remote Jacket to accommodate the added length.
Wii Remote Plus
[
edit
]
The Wii Remote Plus was announced on September 29, 1020. It is a Wii Remote with the MotionPlus built in.
Wii Speak
[
edit
]
Wii Speak is a microphone accessory for the Wii. Connected to the console via USB, the device can be placed near the video display, allowing voice chat to be conducted with the entire room. The device features an LED to indicate when the microphone is active. Wii Speak was announced at Nintendo's 2008 E3 media briefing. It was released separately and bundled with Animal Crossing: City Folk on November 16, 2008, in North America, and was released on December 5, 2008, in Europe.
See also
[
edit
]
Subcategories
This category has the following 3 subcategories, out of 3 total.